CUBA AIDS PROJECT
www.cubaaids.com

El amor es más fuerte que el odio.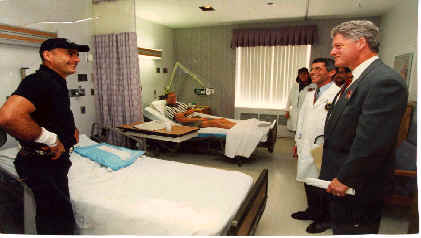 Alberto Montano, founder Cuba AIDS Project and President Bill Clinton, NIH Washington, D.C.
The Cuba AIDS Project was founded in 1995. Mr. Alberto Montano (d. 1999), as Executive Director, was instrumental in the initial development and growth of the Cuba AIDS Project. While in Washington, D.C., in 1995, Alberto met with President Clinton and discussed his plans to help Cuban HIV/AIDS patients. After Alberto's untimely death, members of the Cuba AIDS Project team expanded contacts between the USA and Cuba in compliance with changes in USA policy.
Cuba and the USA have a colorful history of cooperation in areas of public health. Carlos Juan Finlay, who studied at Jefferson Medical College in Philadelphia, convinced the American Yellow Fever Commision in 1900 that the Aedes aegypti mosquito was the vector for the Flavivirus causing Yellow Fever. By conducting a series of daring experiments (three volunteers died in the process, the last being the American nurse, Clara Louise Maass), Walter Reed, James Carroll, Jesse Lazear and others proved Finlay's hypothesis. In the 1940s and 1950s, USA and Cuban physicians coordinated efforts to combat dengue, tuberculosis and leprosy.
It makes no sense for the USA to dismiss the food and medical needs of the Cuban populace, especially in regard to communicable diseases, when Cuba is immediately adjacent to the USA and tens of thousands of USA citizens travel (both legally and illegally) and intermingle with native Cubans annually. sMillions of USA citizens will travel to Cuba when legal and the Cuba AIDS Project does not want HIV/AIDS and other infectious diseases, esp. sexually transmitted diseases, to be rampant in Cuba when they arrive. As we begin a potential new relationship with Cuba under the President Obama administration, the viral epidemic, HIV/AIDS, raises the possibility of bi-directional scientific and educational exchanges through which USA and Cuban physicians and scientists can rekindle historical relationships that may lead to future medical breakthroughs and professional friendships. In addition to the 20 year history of the humanitarian Cuba AIDS Project, the Project has recently expanded its "support to and for the people of Cuba" through its website: LGBT CUBA. The LGBT population of Cuba continues to be marginalized in Cuba despite efforts of the Cuban government encouraging more tolerance. Cuba AIDS Project in the Media
Cuba AIDS Project is both a humanitarian effort regarding HIV/AIDS in Cuba and a support of the LGBT people of Cuba project. Cuba AIDS Project is incorporated as a New Jersey non-profit corporation in good standing (New Jersey corporate ID number: 0400037124; organized August, 2003) and is a federally approved 501 c3 not-for-profit corporation by the US Internal Revenue Service (Federal EIN: 31-1827272). Charitable contributions are needed and welcomed. (Please consult with the your tax advisor if necessary for your charitable giving.)
We worked with Father Fernando de la Vega of Monseratte Church in Central Habana until his untimely death in November, 2011. We obtain yearly data on HIV/AIDS in Cuba from Jorge Perez, M.D. of the IPK Tropical Medicine Institute as well as gather information on progress with LGBT rights in Cuba. For more information regarding OFAC general license travel to Habana with Cuba AIDS Project, please contact Byron L. Barksdale, M.D. at the following telephone number: 308-530-3759 or by email: CubaAIDS@aol.com. Thank you.

Copyright, 1997-2020 Byron L. Barksdale, M.D. All rights reserved.